How To Get There
Air: Nearest Airport is Tiruchirappali (4 Hrs By Bus) Next nearest Airport is Chennai (9 Hrs By Train)
Rail: Nearest railway station is Nagapattinam (11 kms) Others are Trichy, Chennai and Thanjavur (89kms)
Road: Buses are available from Chidambaram, Chennai, Madurai, Pondicherry (4 Hrs), Trichy (141kms) and Thanjavur.
Buses frequently run from Nagapattinam (every 15 minutes).
Bus Timings
SETC – State Express Transport Corporation
(Formerly Thiruvalluvar Transport Corporation )
864 Bangalore 17:30 (s)
864 Bangalore 18:30 (s)
771 Thiruvananthapuram 18:00 (s)
770 Ernakulam 18:30 (s)
724 Coimbatore 20:00
560 Marthandam 19:30 (s)
324 Madras 8:00, 8:15 (s), 9:30,10:30, 20:00, 20:30 (s), 21:30, 22:00
(s)- Super Deluxe
Where there is no indication, the service operated is Semi Deluxe Buses to and from Nagapattinam and other nearby localities are operated round the clock between 21:00 and 5:00 the buses are available on an hourly basis only.
Train Timings
Vailankanni Railway Reservation Booking Office Working Hours :
9.00 to 12.00 & 14:00 to 17:00
Trains operating from Nagapatinam
671 Nagore – Thanjavur Passenger Nagapattinam (D) 6:40 Thanjavur (A) 9:30
677 Nagore – Trichy Passenger Nagapattinam (D) 13:55 Trichy (A) 19:20
675 Nagore – Thanjavur Passenger Nagapattinam (D) 18:05 Thanjavur (A) 21:00
Trains operating to Nagapattinam
672 Trichy – Nagore Passenger Trichy (D) 4:20 Nagapattinam (A) 9:30
678 Thanjavur – Nagore Passenger Thanjavur (D) 10:00 Nagapattinam (A) 15:20
676 Thanjavur – Nagore Passenger Thanjavur (D) 18:15 Nagapattinam (A) 20:37
Southern Railway : Enquiry & status at Nagapattinam Tel. No. : 04365 – 42131
Best Time To Get There
During Velankanni festival conducted every year: August 29 to December 8
Map Of Tamil Nadu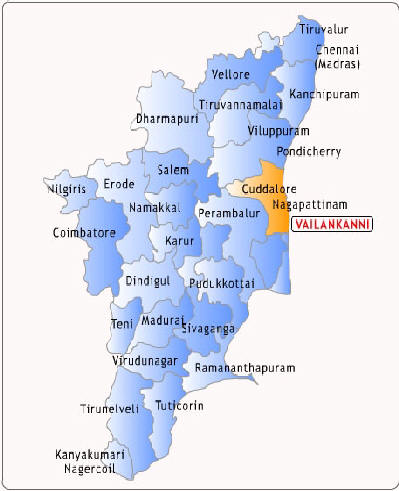 Church – Campus Map 1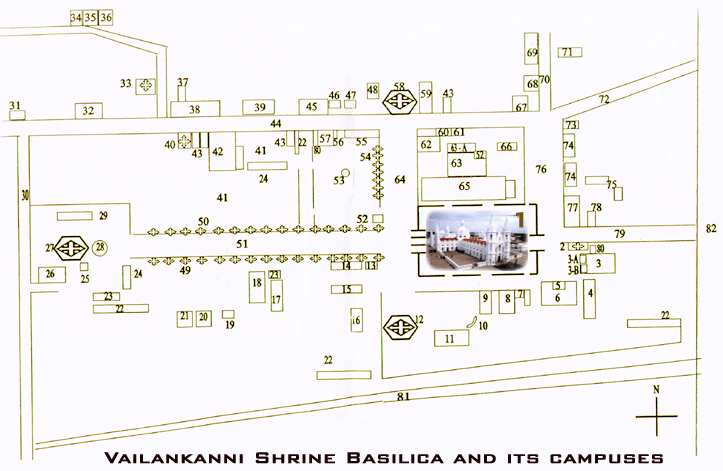 Details of the Vailankanni Sketch
1. Shrine Basilica
2. Our Lady of Dolours Church
3. Museum of Offerings
3A. Blessed Oil Counter
3B. Book Stall-Museum Upstairs
4. St. Antony's Qts
5. Shrine Depot (presbytery-groung floor)
6. Presbytery
7. Car & Sapparam Shed
8. Stores
9. Little Flower Qts
10. Fountain
11. Home for the Aged
12. Adoration & Reconciliation chapel
13. Generator Room
14. St. Luke's Qts
15. Infant Jesus Qts
16. Christu Raja Qts with Open Mahal
17. Jubilee Qts
18. Missionaries of Charity Convent
19. DMI Convent
20. Retreat House
21. Institute of Mariology
22. Shrine Public Lavatories
23. Canteen annex
24. Pilgrims rest shelter
25. Our Lady's Tank Church Tower
26. Hall for distribution of holy water
27. Our Lady's Tank Church
28. Our Lady's Tank
29. Depot for religious & Plastic goods
30. Kamarajar road
31. IHM Convent
32. Our Lady of Health Hospital
33. St. Joseph's Church
34. Hr. Sec. School for the Handicapped & High School for the Hearing-impaired
35. Jesus Convent
36. Karunai Illam
37. Boys Hostel
38. Our Lady of Health Hr. Sec. School
39. St. Joseph's Qts
40. St. Sebastian's Church
41. Tourist Bus Stand
42. State Express Bus Stand
43. Cemeteries
44. Main Road from the Arch Entrance
45. Town Bus Stand
46. Govt. Primary Health Centre
47. Panchayat Office
48. Market
49. Stations of the Cross
50. Stations of the Rosary
51. Holy Path
52. Shrine Dispensaries
53. St. Xavier's Ground
54. Seven Sacraments
55. St. Xavier Qts
56. Railway Booking Office
57. Shrine Rooms Booking Office
58. Naduthittu Church
59. Our Lady of Health Primary School
60. Indian Overseas Bank
61. Police Station
62. Shrine Community Hall
63. Bon Secours Convent
63A. Girl's Hostel
64. Shrine Road on the west
65. Shrine Open-Auditorium
66. Don Bosco Qts
67. Post Office
68. St. John's Qts
69. Uthariamadha Tourist Hall
70. Uthariamadha Road
71. Uthariamadha Bachelor's Qts
72. Way to the Sea
73. M.M.Qts
74. St. Thomas Qts
75. St. Thomas Annex & Tourist Hall
76. Road on the East of the Shrine
77. Shrine Canteen
78. Shrine Tonsure Hall
79. Road to the Sea
80. Cloak Room
81. Vennaru River
82. Bay of Benga
Details About Vailankanni Church Campus
O F F I C E
The Shrine office functions from 9.00 a.m. to 5.30 p.m. with a break for lunch between 12.30 noon to 2.00 p.m. Sundays, New Year Day, Good Friday and Christmas are holidays for the office. The office is a prime help to the Rector and Priests;backbone of the administration besides dealing with Sacramental records.
M U S E U M
Open from 6.30 a.m. to 8.00 p.m. every day. Offerings of gold, silver other metals and kinds, received from pilgrims, are displayed here. The Museum stands as a live-witness to Our Lady's blessings upon her devotees and to the gratitude of pilgrims.
D E P O T
The depot is at the ground floor of the parachial house, displays religious articles, statues, audio & video cassettes. It has a branch at Our Lady's Tank. In the beginning, it was known as Legion of Mary book depot.
B O O K C E N T R E
A book stall known as 'Annai Book Centre' is located in the museum with its branch down the museum.
S C H O O L
1. Our Lady of Health Higher Secondary School 2. Our Lady of Health Middle School 3. Our Lady of Health Elementary School 4. Infant Jesus Primary School (English Medium) 5. Christ the King High School special school for handicapped and Deaf & Dumb Children.
C H A R I T Y I N S T I T U T I O N S / H O M E S
Karunai Illam – A Home for physically handicapped and Deaf & Dumb Children – run by Sisters of Jesus Congregation. 'Nirmal Hriday Home' – a home for mentally retarded children – run by sisters of 'Missionaries of Charity'. St.Joseph's Home for Aged' (for men and women)
H O S P I T A L
Our Lady of Health Hospital with a dispensary.
Church – Campus Map 2