His Holiness Baselios Paulos I (1st Catholicos of the East in Malankara)
His Holiness was born on 19 January 1836 to Murimattom Kurian and Mariamma in Kolencherry. He received deaconship from Cheppad Mar Dionysius in 1843 and in 1852 he was ordained as Priest by Metropolitan Yuyakim Mar Kurilos. He served for a long period as Vicar of Kolencherry Church.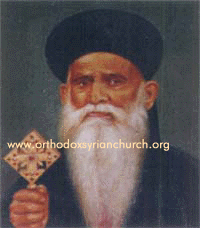 On 17th May 1877, His Holiness Patriarch Pathrose consecrated him as Paulose Mar Ivanios at Cherallayam Palli, Kunnam kulam and appointed him as Metropolitan of Kandanad diocese. On 15th September 1912, His Holiness Patriarch Abdhedh Messiah with the co- operation of Vattasseril Geevarghese Mar Dionysios Metropolitan and Geevarghese Mar Gregorios Metropolitan elevated him to the Apstolic throne of St. Thomas as Catholicos of Malankara church. He passed away on 2 May 1913 and was laid to rest in Pampakuda Cheriya Palli.